"The Ultimate Weapon" and "The Last Evolution"
by John W. Campbell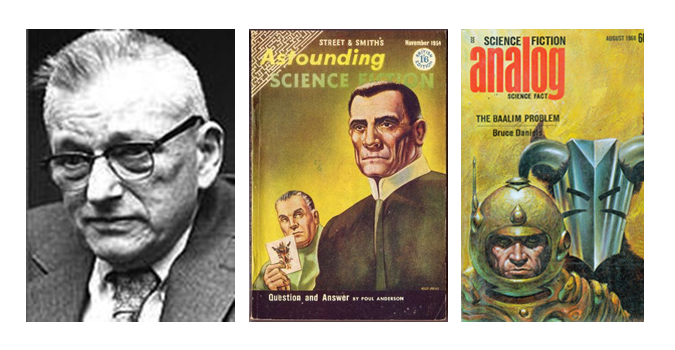 We debated this one fiercely over here at Fresh Pulp. Few people have influenced modern Science Fiction more than Campbell. Even fewer might be called a kind of "McCarthy of Sci-Fi". With Campbell first taking the helm of "Astounding Science Fiction" in 1937, a new era within the genre had begun. Some view this as the single darkest era of the genre, but most view it as a Golden Age. Campbell was responsible for cultivating authors such as Isaac Asimov, Theodore Sturgeon, Robert Heinlein, and A.E. Van Vogt, to name a few. The list of those he called friends is a veritable who's who of Sci-Fi, many of which eventually became Grand Masters of the genre. He presided over Astounding Science Fiction for more than 30 years, during which time the magazine changed its name from "Astounding Science Fiction" to "Analog Science Fiction and Fact", and was one of the inaugural winners of the Hugo for best professional magazine.
Part of Campbell's influence started when he began to insist on having science based Sci-Fi, and most often written by actual scientists. It was an objective standard that made "Astounding Science Fiction" an uncontested powerhouse for most of the next fifteen years. Granted, what we view today as "science based" is very different than what might have been seventy years ago. Not to mention, Campbell had some decidedly pseudo-scientific views of his own. Despite his hard nosed attitude toward what was to be published in the publications he ran, it seemed he was given to subscribing to some rather half cocked notions about Sensory Perception, and it was rumored that he eventually came to be a believer in Dianetics, the religion founded by late Science Fiction author L. Ron Hubbard. Cambpell himself wrote several stories that by modern standards might be considered pulpy or even fantasy rather than Sci-Fi. In 1938 he published a story in Astounding titled "Who goes there?", about Arctic scientists discovering a hostile, shape shifting alien in a crashed spacecraft. Sound familiar? The movie adaptation "The Thing from Another World" hit theaters in 1951. Another version by John Carpenter called simply "The Thing" was released in 1982.

Personally, Campbell was brusque and opinionated. Even those whom he considered friends rarely had anything positive to say about his demeanor. He was a notorious monologuer, a chain smoker, and by many accounts, a racist. This is something I alluded to briefly in a couple of previous posts, particularly those of Robert E. Howard, and H.P. Lovecraft. As I mentioned earlier, this particular post was the subject of much debate and the staff here at Fresh Pulp, decided it was best to address the social and moral shortcomings of the various authors we talk about in here, in a separate work, which will be available to read tomorrow. Regardless of his views having a look at his works, and especially the works of those he cultivated could provide a snapshot of early Sci-Fi. It might even provide some historical context to some of the goings on in the current Sci-Fi landscape, particularly the upheaval amongst the Hugo Award community this year.

Some people may decide not to continue reading this post in light of what they have learned, and some may simply elect not to read the books we have made available by Campbell and other authors. We respect our readers' right to do so, and given that the aim of this publication is diversity in storytelling, we wholeheartedly agree with such decisions. However, we have also decided that this particular topic is also worth a lively and intellectual (as well as respectful) discussion. The essay that is soon to appear is meant, not to assuage or beguile our readers, but to inform for purposes of discussion. We are a publication of not only ehtnic and gender diversity but also diversity of opinion, even those that we disagree with or may not be popular.
Below we have provided links to the novels, completely free for download.