Astounding Stories June, July 1930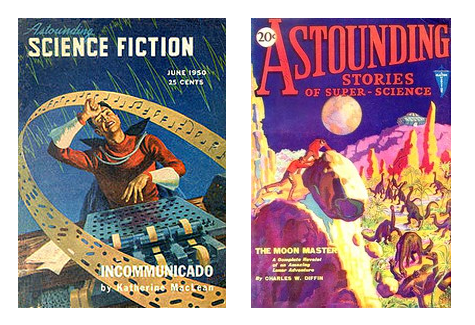 We are going to give everyone a break this week, from our incessant preaching and the constant exaltation of Science Fiction writers. We, over here at Fresh Pulp Magazine, consider ourselves not just Science Fiction writers. We also consider ourselves students of Science Fiction. A few of us have dedicated a good portion of our adolescent and adult lives to the study of the genre. In true nerd fashion we would spend hours poring over the stacks of used bookstores looking for gems of the Golden Age. More recently, we've even found ourselves buying old Weird Tales issues from online auctions and estate sales, vintage copies of 2000 A.D. from dusty old comic stores. Lately we've been finding old issues of "Astounding Stories" and we wanted to share that with our readers as part of our "Free Reading" series. We wanted to give some of the other students of Sci-Fi and opportunity to see how some of these stories were written, and perhaps how they might have contributed to the genre. And even if you aren't a student, perhaps you will simply enjoy a brief look into the past, a past that dreams of the future.
For those of you who don't know what "Astounding Stories" is, it is the longest running Science Fiction publication. It has been in continuous print in some form for 85 years. It opened its doors in 1930 as "Astounding Stories. In 1938 it under the new regime of John W. Campbel it became "Astounding Science Fiction". And in 1960 it eventually became "Analog Science Fact and Fiction". It is one of the most prestigious and storied publications, boasting the launching of such careers as Harlan Ellison, Orson Scott Card, Isaac Asimov, and Robert Heinlein. We have decided to offer a couple of free issues from June and July 1930 (pre Campbell era), and we hope that you will enjoy this little glimpse of the past. We chose these particular issues because of the appearance of Murray Leinster and Ray Cummings, both of whom could be considered early giants of Science Fiction.

Astounding Stories June, 1930

Astounding Stories July, 1930