"Sentiment Inc." and "Industrial Revolution" by Poul Anderson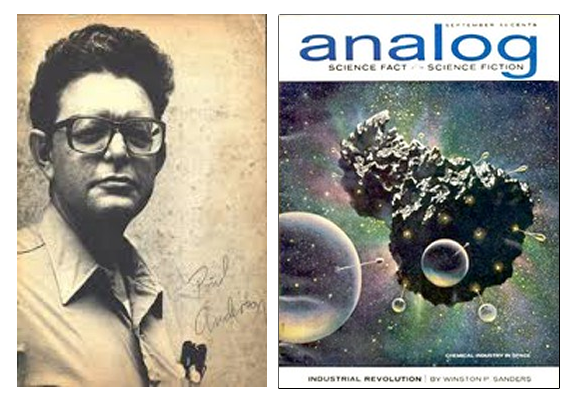 After a brief hiatus we are back with another Free Reading. What better way to kick off a new series of free downloadable fiction than making a Libertarian the subject of our article? Poul Anderson, another giant from the Golden Age of Science Fiction. He spent his formative years living in the United States and Scandinavia, the birthplace of his parents. Just before the outbreak of World War II his family came back to the US permanently. Young Poul would eventually attend the University of Minnesota where he would receive a degree in Physics. Not unlike many of the writers of his day, he studied a highly technical field and this fact was reflected in his writing, though it was not the point of it. It was during his studies at University that the first of his stories began to appear in "Astounding Science Fiction" in 1947.

Poul is known for having Liberterian themes in some of his stories, and held some beliefs that were very much in line with that ideology. However, one could not necessarily say that he was actually a Liberterian. The other interesting thing about Poul is his critical stance on Conservative and Liberal unwavering support for Israel's policies of dropping bombs on Palestinians. Some of his writings also reflected his particular aversion to conflict. And while his distaste for Russian autocracy was also clear in some of his Cold War writings, he also expressed concern over the potential for unchecked American hegemony. Getting a little deeper into the styles and themes that can be found in his work, he was among the first to write sympathetic villains and complex precursor's to modern anti-heroes.
Anderson became the 7th President of SFWA in 1972, having won 3 Nebulas and 7 Hugos, and been nominated 41 times for a Locus before finally winning (a record). Some other interesting trivia of note about Anderson, he is the father in law of Greg Bear, and is a founding member of the Society for Creative Anachronism. He was named the 16th Grandmaster of SFWA in 1998, only a few years before his death in 2001.

"Industial Revolution" is a novella written by Poul in 1963. It is about the rebellion of asteroid miners against a decadent and autocratic regime on Earth. It is told in the hard sci-fi tradition, though Poul sacrifices nothing in terms of humanism or artistry when it comes to his story telling. This makes this novella both engaging and technically satisfying. Trigger Warning: Strong Libertarian themes present in this one.

The second work "Sentiment Inc." is a short story about a guy who loses his girlfriend to a charmless millionaire. The man hires an investigator to find out why and ends up unraveling a global conspiracy of the millionaire to use a mind altering machine to get people to do what he wants. I can't say that the antagonist in this story has some higher purpose, it seems to be mostly self serving, but it is interesting. Anderson does a great job of using paranoia to engage and heighten the fear of his audience, and the ending was interesting to say the least. Click on the links below to download your free copy of these two works by Anderson!

Industrial Revolution by Poul Anderson

Sentiment Inc. by Poul Anderson