"War Stories From the Future" by The Atlantic Council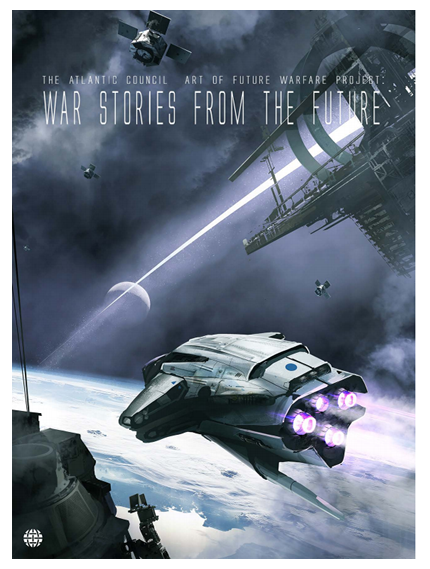 This week we are doing something very different. Not only are we not posting something from one of the venerated masters of yore, we are also posting an anthology. "War Stories From the Future" is a free ebook anthology being offered by a D.C. think tank for consumption by the general public. The anthology contains stories contest winners as well as new fiction from established Science Fiction writers such as Ken Liu. The foreword was written by General Martin Dempsey, former Chairman of the Joint Chiefs of Staff. For those of my readers who aren't from the United States, that is the highest ranking military officer of all the armed services. The Atlantic Council produced this work as an exercise in creatively coming up with new paradigms in which wars would be fought in the future. To many, particularly those who do not like Military Science Fiction, this can sound a bit sinister. A D.C. think tank, commissioning writers to dream up war scenarios. When I first heard about this anthology it reminded me of "Three Days of the Condor" starring Robert Redford and Faye Dunaway. He plays a CIA analyst whose job it is to read books to look for potential scenarios that might play out in real world events. It is the job of think tanks to countenance such things so that they can be avoided, or to provide contingencies should those scenarios ever come to pass. There is nothing sinister about it I assure you. Certainly it is no reason to pass on this particular work.
Further, for those who have had problems writing military style science fiction or those that would like to, it is an excellent opportunity to get a look at some wonderful resources. Think tank websites routinely publish or, make available for sale, issue papers and other resources on military actions, potential threats, and diplomatic efforts often revolving around conflicts. Small yet realistic details of this nature often make the difference between an average story and a great one. Too frequently in recent years we have seen Science Fiction stories that have not done their due diligence when it comes to militaria or diplomacy, and even more frequently, the science.
We suggest you read the foreword and the stories contained therein and make up your own mind about military Science Fiction. Whether it is your cup of tea or not, there were a couple of gems in this anthology. And, at the very least, it is a great education on where to find academic resources on real world events for your writing, or just your own personal edification.
The link below will take you to the specific Atlantic Council page where the book can be obtained. Just scroll down to the bottom and there are two links for the epub and the mobi files. Take your pick and enjoy!
Note: Publications such as this rarely remain available or free indefinitely. Even if you don't intend to read it right away but would like to, we suggest you go to the link and download the book right away.