The Sargasso of Space by Edmond Hamilton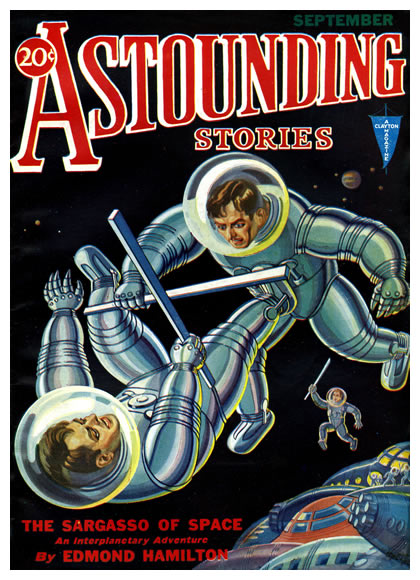 This is our last installment of Free Reading for 2015, and our last attempt at hipping some of you primitives to some excellent vintage Science Fiction. Our subject this week is Edmond Hamilton. As old masters go, he is one of the oldest and one of the greatest. Though many of us have no idea who he is, largely because most of his prolific work has fallen into obscurity over the decades. Hamilton was born in Ohio, though he grew
up in both Ohio and a nearby town in Pennsylvania.
He was incredibly intelligent, having graduated from highschool and begun university by age 14. Though he flunked out of university a few years later, it was a mere few years after that his first stories appeared in "Weird Tales". He was curated by Farnsworth Wright, the legendary inaugural editor of that magazine, along with H.P. Lovecraft and Robert E. Howard. He was one of "Weird Tales" most prolific contributors, racking up almost 80 stories between 1926 and 1948. During that time he also created the first hardcover compilation of, what would eventually become known as Science Fiction. Hamilton is considered the father of the Space Opera subgenre of Science Fiction.

During the lean times of the Great Depression he also worked consistently as a writer of crime fiction. This is a craft he would later find useful as a writer for DC Comics for their Batman and Superman comics. In the mid 30s he went on to create the "Captain Future" franchise, a series dedicated to young Science Fiction readers. In 1946 Hamilton married Leigh Brackett, a previous subject of "Free Reading" and one of the screenwriters for "The Empire Strikes Back". They only ever collaborated on one professional work during their 30 year marriage, though he did do an uncredited revision of her story "Black Amazon of Mars", the link to which can be found here. In 1976 Toei, a Japanese animation company, produced an animated adaptation of his "Captain Future" series. Tsurubaya Productions adapted his book "Star Wolf" into a tokusatsu (a live action drama in the vein of Godzilla). Hamilton died a year later in 1977. To my knowledge, despite his enormous contribution to Science Fiction, he was never awarded (even posthumously) any titles by the SFWA. Neither has he ever won any awards for his fiction. As I stated above, his work has fallen into obscurity over the decades. Some of this is likely to do with how dated his style seemed even by 1950. Further, the plots and stories may seem simplistic by modern standards. They were very romantic, often starring male protagonists and damsels in distress.
The story we are offering for free this week is no different in this respect. "The Sargasso of Space" is about a wrecked space freighter set adrift in a ship graveyard in space. The main character finds a woman who also happens to be stranded, as well as some other unsavory characters. The plot is a bit trite, but the exposition of successive antagonists is quite interesting. It's a fast and entertaining read. Perfect to read on a rainy day. Download and read to find out more.

The Sargasso of Space