House on the Borderland by William Hope Hodgson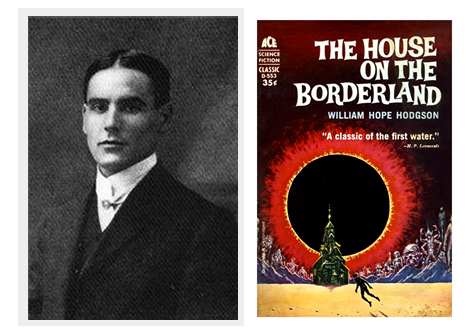 I could hardly contain my excitement when I came across the public domain version of this book. I remember reading as a child, referred to me by long time friend and chied editor of Fresh Pulp, J. Austin Yoshino. Some of the mythos from Dungeons and Dragons used to creep us out a little and so we began this collaborative effort to find books that would offer a similar sensation. We had not yet discovered H.P. Lovecraft and spent the summer trolling through the stacks at whatever library our parents were willing to drive us to. We searched the bookstores both retail and used. Before too long we had a respectable collection and a very efficient system we used to read and then swap books. Looking back on it, I realize we had formed a two person book club of sorts. We kept the stacks of used books in a closet on the second floor of my parents split level home, and it was of sufficient size, and coolness in the summer, that we often sat in it reading for hours. After which we would discuss our experiences with the books in enough detail to express pleasure or displeasure but in vague enough terms to maintain the mystery for the other.
One of these books was considered the king of the horror tales. It could be considered horror or fantasy, or science fantasy possibly. Today we call these types of books "Cosmic Horror". "House on the Borderland" was written in 1908 by Willam Hope Hodgson. So potent is the prose on the pages within it, that even H.P. Lovecraft says he was influenced by it. Once you read this book, you will see not only how much he was influenced, but how much of a master Hodgson is by comparison. The story is about a pair of English gentlemen who go to Kraight Ireland for a fishing weekend and end up staying in the house. They find a journal written by one of the previous owners, and the bulk of the story is told from this vantage point. The story involves dimensional portals and feral pig men among other dimensional horrors. It was one of the books that scared me so completely that I had to spend the rest of the day in complete sunlight, outdoors, just to make myself feel better. We both did.
Hodgson has quite an interesting story himself. He was a writer of prose and poetry and was prolific in early science fiction and fantasy. Most of his early life was spent at sea which greatly influenced his work. Persistent bullying prompted him to become an expert bodybuilder and practicioner of boxing. He was an accomplished photographer as well, often photographing things he saw during his voyages. After a mere 8 years at sea and having attained a 3rd mate certificate, Hodgson returned to England and opened a gym and fitness center. He continued to write on a variety of topics across several genres. Between this time and the beginning of WWI, he wrote four novels of fantasy and cosmic horror, most notably the subject of this post "House on the Borderlands". Once the war broke out, Hodgson joined the officers training corps and was deployed, where he was severely injured and sent home. After recovering, he re-enlisted and was sent back to the front where he was killed by an artillery shell.
Here is the link to the book: House on the Borderlands