Free Reading: "IF Magazine"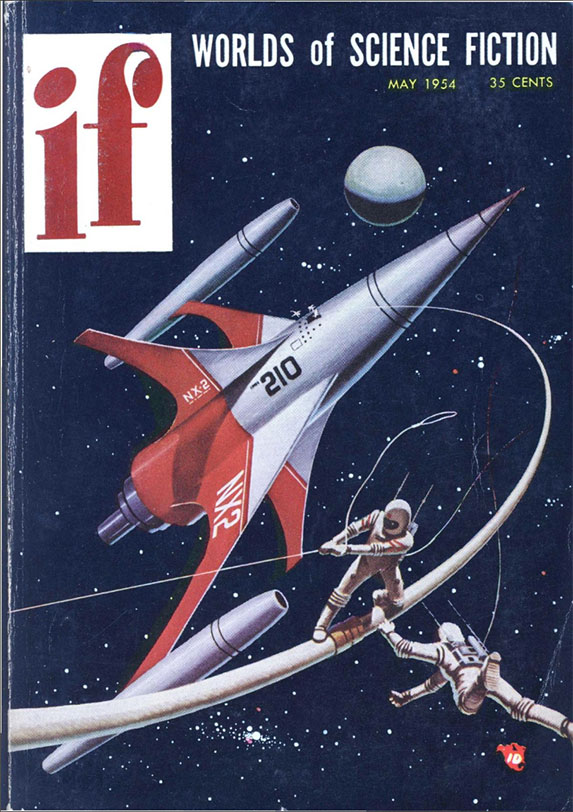 The web is constantly amazing me with new access to obscure and esoteric archives of material. And though this one has been around for a while, I only recently found out about it. Many of the things that I choose to share with you appear to come from a palce of abject nostalgia. Truthfully I cannot separate my love for sci-fi from many of the better moments of my childhood. Having had a strained relationship with my father, I can say that one of the few things we bonded over was our love for scifi. Some of our better moments occurred while sitting quietely in front of the television watching "Star Trek" reruns, or "Buck Rogers", or some technicolor monstrosity from the 50s or 60s. One of the memories that stood out the most for me was the stack of scifi magazines my father kept around the house. Embarassingly, he has a small caddy in the bathroom that was often overflowing with them. Even before I knew the significance of any of the stories contained in the magazines, I would admire the cover art. To this day I have a secret weakness for this art. And the cover of "IF' had some of the best covers you could find anywhere. I'm still waiting for the portrait size prints to go on sale somewhere or for some gallery in Ikebukuro to have a show of just these covers. Even its conteporaries such as "Astounding Science Fiction" (now Asimovs), didn't have comparable art on their covers. I didn't know it then but that imagery would be emblazoned on my mind, creating a person who would forever be an acolyte of science fiction. Magazines like these represent a sort of archive of science fiction evolution. Many of the stories and even technologies of today have a clear root in magazines like these.

The art did as much to influence me to become a science fiction writer as the words within the magazine. Given that my first exposure to such magazines occurred when I was very little, perhaps they influence me even more than the words. As I grew older, and to this day, I maintain my fascination with science fiction imagery. I currently have a massive collection of books from artists such as Brom, Chris Foss, Luis Royo, Frank Frazetta and Hajime Sorayama. I was also similarly inspired by other publications like "Heavy Metal", and "Metal Hurlant, whose covers were quintissentially sci-fi. And I would be remiss if I didn't mention old vinyl album covers. Iron Maiden's legendary mascot, Eddie, has graced some of the most dark and influential cover art of all time. "IF Science Fiction", though not as dark, has some similarly influential art work and the covers are far in advance of the day, making its loss in 1974 a major blow to sci-fi.
Sadly, leafing through this collection, has also reminded me of what science fiction has lost. Despite the fact that much of what can be read in the 50's does not meet any modern scientific standard, there is clear evidence that some of the stories were based on the comparatively limited scientific understanding of the day. What troubles me the most in modern times, is this need to democratize absolutely everything. A person's relevant knowledge, even of the genre/profession/job they occupy, has become utterly inconsequential to their respective crafts. Many of the writers of this generation have no real knowledge of the history of scifi. They don't read back issues of "IF", "Galaxy" or "Omni", and can't be bothered to add an element of scientific realism to their work by picking up a copy of "Scientific American" or " Popular Mechanic". The trappings of Science Fiction (e.g. actual science") are often treated as an obligatory annoyance, that they wave at on their way to an overly sentimental conclusion to a story. In true Orwellian fashion, the idea of genres now means "whatever we want it to mean", not matter how loosely certain works may be related. It's the literary equivalent of "how many fingers am I holding up?" "IF" began its run in 1952 and published some of the industries most prominent science fiction and fantasy writers. James Blish and Damon Knight frequently made appearances. It was edited by one of scifi's greates contributors; Frederik Pohl. It was eventually absorbed by one of its sister "Galaxy Science Fiction" in 1974. I hope that anyone interested in taking up science fiction will take the time to read through some of the issues, and perhaps enjoy some of the art. The link to the archives is below.

IF: Worlds of Science Fiction Internet Archives