Micropixie's "The Good, The Beige, and The Ugly"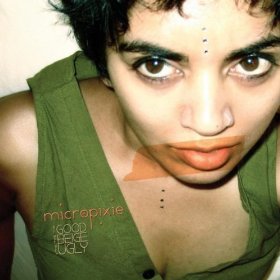 Anyone who's ever been through my iPod knows that I am particularly particular when it comes female vocalists. I love Otis Redding, Percy Sledge, John Lee Hooker, and plenty of other male vocalists. However, in recent times I find it rare to come across truly interesting female singers. Which is to say consummate artists with clear understanding and obvious love of music in all its forms. I first came across Micropixie's music when, she was mentioned, in passing, by a friend. Being a creature of perpetual, nocturnal web surfing, I looked her up and found her page with samples of music. Needles to say, it immediately captured my interest.
I bought and downloaded the entire album more or less with the intent of picking a few songs that I could write to. I loaded it onto my iPod, cued up the album, put on my earphones, and strapped in for a couple of hours of writing one Saturday. Before I knew it, the entire album had played. I was faced with a quandary at this point which was: "Had I listened to the entire album and forgotten?" Surely the music wasn't forgettable. I cued it up again, this time, minus the writing.
What I found in this album was not simply good music. I found an artist who seems to have diverse tastes in music herself and somehow managed to incorporate reimagined, and subtle bits of her own influences without stripping the essence of those influences out entirely; a complex and difficult task to say the least.
As an example (and I'm not a fan of patently categorizing things, least of all art), I could swear I caught a whiff of dancehall in one of the tracks. Which was a pleasant dose of originality. The vocals were rich and evocative and the overall sound was distinct and original. The musical arrangements were masterfully performed and expertly mastered. And it must be said that given the exceptionally broad range of musical flavors evident on the album, putting sound with voice had to have been a monumental undertaking, and one completed in singular fashion.

I can't claim to know much about the collaboration that went into this album. But I can say that all of the musicians involved did a fantastic job of complimenting the vocals as well as each other. Could be an excellent example of "check your ego at the door", as one would have to in order to achieve what they did on this album. As a writer, I often use music to enhance my writing process and I found myself particularly grateful to have come across this independent gem. This album has found a place of permanent residence in my playlists amongst other vocalists such as Geri Soriano-Lightwood (Supreme Beings of Leisure), Pam Bricker (Thievery Corporation), Emiliana Torrini, and Beth Hirsch (Air). Which is not to say that they are in any way similar except in their excellence as vocalists, and their ability to evoke strong emotional responses in their performances. In a time when expedience overshadows musicianship and the profits of prefabricated pop stars proliferate (I swear I didn't do that on purpose), the artistic merits of "The Good, The Beige, and The Ugly" make it worth checking out.


To get a feel for the music, or to get more information about Micropixie check out the links below:

https://www.facebook.com/Micropixie
http://micropixie.bandcamp.com/album/the-good-the-beige-the-ugly