Interview: Sound, Tehran, Music Festival pt. 1 (English)
The contemporary music festival " Sound, Tehran, Music" was held 16- 20 August 2016, at the house of Sharyaran e Javan, Dehkadeh Javani, Milad Tower. It was planned and performed by Yarava Music ensemble. Arsalan Abedian, Mehdi Behboodi, and Mehdi Jalali were the organizers and secretaries of the Festival. Nader Mashayekhi and Shahrokh Khajeh Noori were the artistic consultants of the festival. On the closing day of the festival, the statuette of the festival made by Jamshid Moradian, was awarded to Professor Fouzieh Majd for her lifetime activity in the field of "New" Music. This prize will be awarded to one of the Iranian pioneers of contemporary music every year. We had an opportunity to sit and speak with Dr Arsalan Abedian, a graduate in Electric Music Composition from the University of Music, Drama and Media Hannover, Germany.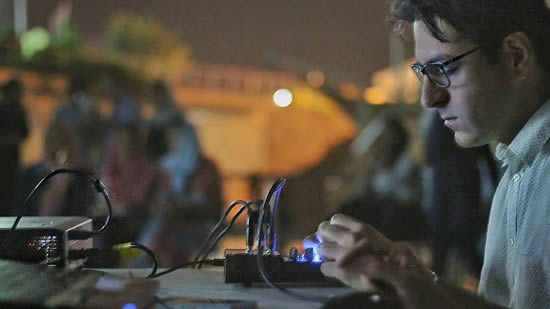 FP: What were the main objectives of the "Sound, Tehran, Music" Festival?
Dr. Abedian: Providing an appropriate space to exchange sound, thought, and ideas. And to present new music to Iranian audiences was the main objective of the Festival. This festival was like a small island that could be created in Tehran, a gray smoky metropolis in which to spend moments with pure sound.
FP: What was your role in the Festival?
Dr. Abedian: My primary role was planning and designing the artistic program and content of the Festival, technical support for the performances that were associated with electronic sounds and in particular, holding two electro-acoustic concerts in the form of Quadrophonic, from different countries including Germany, France, USA, and Iran.
FP:What do you mean by "sound"?
Dr. Abedian: The meaning of Sound here is not the separation line between voice and music but it is a reminder that contemporary music is directly related to the nature of sound more than any other genre of music. And it points out that, on the one hand, the way of hearing music, shapes and defines music in mind of the audience. On the other hand, the composer's effort and his method in combining and organizing sound and shaping his ideas play a major role in the audience's perception of sound. I think this event can be an appropriate stage for young musicians and composers in the next years as well as an opportunity for exchanging the experience of this field's pioneers to the younger generation.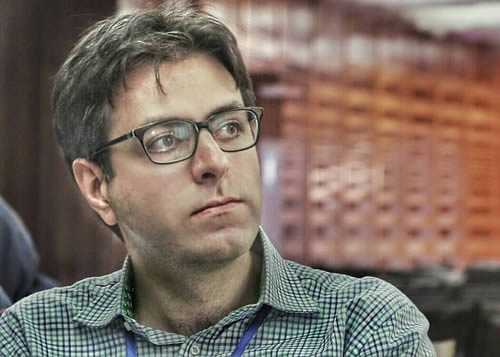 FP: What is meant by "Contemporary"?
Dr. Abedian: According to Arvin Sedaghat Kish (composer and researcher), the definition of "contemporary" is difficult and ambiguous. Currently in the field of music and composition, being contemporary rather than relating to the style and history of composition is related to artistic expression and creative thinking. Adding something to the past or expressing an unspoken word is difficult but one can at least try.
FP: What major obstacles have you encountered during organizing the festival?

Dr. Abedian: There were numerous obstacles and difficulties in holding the first festival in Iran, from hardware facilities to software services. Unlike European countries, it cannot be planned for a long time to hold a festival in Iran. And by changing the organizational management and personnel decisions, the project may simply shut down. It is very sad, as the organizers, we have to anticipate everything and have alternatives. And eventually, as Nader Mashayekhi states, we should refer to it as "Bricolage". But my colleague Mehdi Jalali and I, we've learned that instead of grumbling, with teamwork and sharing duties, we can reach a favorable result, even in the most difficult situations.



FP:What was the achievement of the festival for young people?
Dr. Abedian: Young audiences are very curious and interested in music. Young musicians who live in Iran are interested in getting familiar with major musical currents in the field of performing and composing, however, due to lack of access to accurate and up to date sources and the absence of major musical events of Europe, they are generally frozen in serial music, in a certain period of music history. Today there are a number of composers who were educated in Europe and the US and their continued presence in Iran can be very helpful in conveying their experience to the younger generation. It can be one of the long term goals of the festival.
FP:What is the purpose of the "Reza Korookian" award? And who suggested it to the festival?
In addition to the Festival, the closing ceremony and awarding prizes to the winners of the first competition of electro-acoustic music composer, "Reza Korookian" was done this summer. I proposed the idea of the award and it was achieved by Yarava music ensemble and Contemporary Music Records. This award is a tribute to Reza Korookian ( composer 1350-1393) and supports to Iranian composers working in this field, the music that is needed in today's Iranian society and its presence is undeniable.
FP:Do you have any upcoming projects as a composer?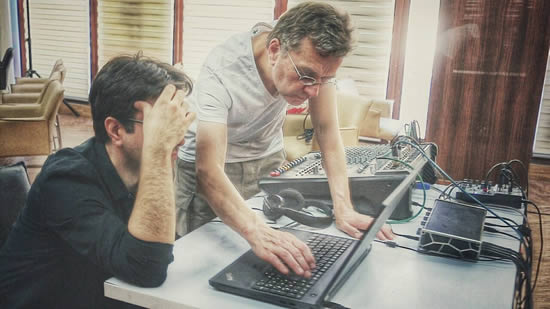 Dr. Abedian: I'm currently writing music, including pieces for Contrabass, Electronics, Santoor, Percussion, and Choir. In addition, I'm involved in the foundation of a studio in Tehran to record multichannel electroacoustic music of young composers.
And I am one of the organizers of the "Dastgah" Festival. This ten-day festival introduces Iranian contemporary music ended in Hannover a few days ago. This event was held in Hannover and small surrounding cities by the management of Professor Joachim Heintz; president of Hanover New music association, and support of cultural and artistic foundations in Germany. I think it was really a unique event in terms of Artistic values and quality of the works in recent years but unfortunately, Iranian news agencies did not cover it. Once again it is clear that the more specialized and pure an event, the less attractive it is particularly for media from abroad. I hope with the help of friends who covered "Sound, Tehran, Music" festival, analytical reports of "Dastgah" will also be released in the Iranian music press.
For more information about "Tehran, Sound, Music" and the Yaravah Music Ensemble please check them out at http://www.yarava.com